Chevening Scholarship 2023-2024 is a fully-funded master's degree program for international students. The Chevening Scholarship pays university tuition fees, a monthly living stipend, a round-trip economy-class flight to the United Kingdom, and other grants and allowances for essential expenses.
Chevening gives prospective leaders and influencers from across the world with a unique opportunity to develop professionally and academically, expand their network, experience British culture, and establish lasting, mutually beneficial relationships with the United Kingdom. Chevening is the British government's international honors program that strives to cultivate global leaders. There will be approximately 1,500 scholarships available worldwide.
Chevening is funded by the Foreign and Commonwealth Office (FCO) and partner organizations and offers two types of awards: Chevening Scholarships and Chevening Fellowships. Recipients are selected by British embassies and high commissioners around the world.
see also: 20 Best UK Universities for International Students
Details of the Chevening Scholarship
Level of Study: Masters
Institution(s): UK Universities
Study in: UK
Funding:Fully funded
Courses Offered: Full-time taught Masters Degree Program in any subject.
Program Period: Depends on the selected program but not more than one year postgraduate course.
Chevening Scholarship Deadline: Varies by course
Benefits of the Chevening Scholarship
The Chevening Scholarship 2023 confers the following benefits on the recipient:
The cost of college tuition.
A regular allowance.
Travel expenses to and from the UK.
A bonus upon arrival.
A reimbursement for returning home.
The price of a single visa application.
A subsidy for travel to UK events hosted by Chevening.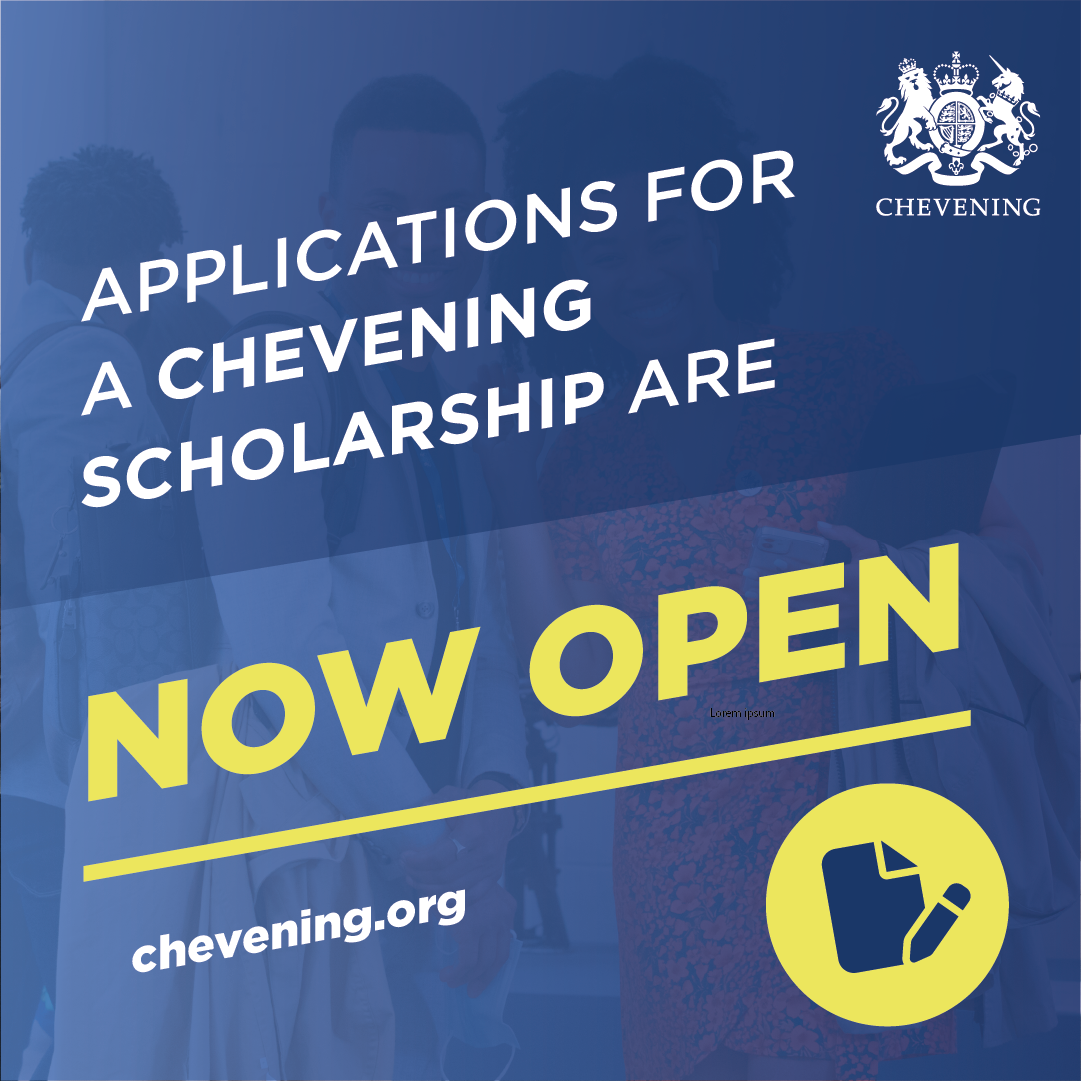 see also: 30 Cheapest Universities in UK for International Students
Eligibility of the Chevening Scholarship
Language Requirement: English
Qualified Countries: Citizens of Chevening-eligible countries are eligible for these awards. The complete list of nations eligible for Chevening scholarships can be found on the official website.
Return to your home country for at least two years following the conclusion of your scholarship.
By the time you submit your application, you must have completed all components of an undergraduate degree that will allow you to enroll in a postgraduate program at a UK university. This is normally equivalent to a 2:1 honours degree in the United Kingdom, though this may vary based on the course and university chosen.
Have at least two years (equivalent to 2,800 hours) of work experience.
Apply to three different eligible UK university courses and have received an unconditional offer from one of these choices by 13 July 2023.
You are not eligible for a Chevening Scholarship if you:
Possess British or dual British citizenship (unless applying from a British Overseas Territory or holding BN(O)).
Hold refugee status in a country that is not eligible for Chevening. Applicants are eligible for a scholarship if they are nationals of a Chevening-qualified country and have refugee status in a Chevening-eligible country.
Are an employee, former employee, or relative* of an employee of Her Majesty's Government, or have been within the last two years from the opening of Chevening applications (including British embassies/high commissions; the Department for Business, Energy & Industrial Strategy; Department for International Trade; Ministry of Defence; and Home Office), or a member of the Association of Commonwealth Universities.
Employees, former employees, or relatives* of an employee of Chevening Partner organizations are eligible to apply; however, if the employment occurred within the past two years, you are ineligible to obtain a Chevening Partner Award from the same organization.
Have previously studied in the UK on a scholarship financed by the UK government.
How yo Apply for the Chevening Scholarship
Choose your nation and then select Chevening Scholarship.
Create a profile.
Start your application after filling out your profile with your personal information, saving the data, and validating your profile.
Complete the quiz to ensure your Scholarship eligibility.
Complete the application with the necessary information and gather the following documents:
Completed educational paperwork
English language proficiency standard.
Conditional offers for proposed academic programs (up to three).
Unconditional offers for suggested educational programs (up to three) (You must submit at least one offer without conditions by July 13, 2023.)
References (If you are invited to interview you will be invited to upload two references) (If you are invited to interview you will be invited to upload two references).
Passport / ID document.
6. Submit the application.
FAQs On Chevening Scholarship
How do you get a Chevening Scholarship?
To be eligible for a Chevening Fellowship you must:
Demonstrate the potential to rise to a position of leadership and influence. Demonstrate the personal, intellectual and interpersonal attributes reflecting this potential. Return to your country of citizenship at the end of the period of the fellowship.
How much is a Chevening Scholarship?
Chevening scholarships are designed to cover the full cost of studying a Masters degree in the UK, including any additional expenses you may incur as an international student. You will typically receive: Full payment of Masters tuition fees, up to £18,000.
Can I stay in UK after Chevening?
a) You must return home for a period of at least two years following the completion of your scholarship.
Is Chevening hard to get?
Chevening Scholarships and Fellowships are highly competitive, only 2-3% of those who apply are eventually selected, therefore, to be selected for an award is a mark of potential and of prestige.
see also