10 Best Trade Schools for Plumbing in 2023!
Plumbers are skilled professionals that install and maintain residential and commercial plumbing and water systems. They acquire knowledge through classroom education and hands-on experience. If you enjoy working with your hands and talking with others, plumbing is a great career option. This article provides a list of the Best Trade Schools for Plumbing in 2023.
Without professional training, the likelihood of receiving the required compensation for one's work is diminished. A technical degree might help you attain the required salary and increase your prospects of earning more money once employed.
Therefore, professional training and education are essential for your resume, which may earn you an interview or a job before you ever enter the job market.
With the Best Trade Schools for Plumbing come the most advantageous career services. Trade Schools have established partnerships with employers over many years to assist students in obtaining desired employment upon graduation. According to industry standards, students receive hands-on training and practice in essential processes.
If you read this article to its conclusion, you will discover the Best Trade Schools for Plumbing in the United States.
This post examines the Best Trade Schools for Plumbing, their factual information, and direct links to their websites to save you time and provide quick access.
What Does Plumbing Mean?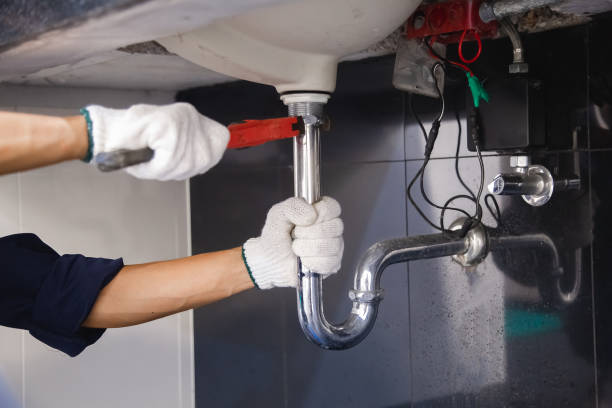 Plumbers install and repair the piping that transports liquids and gases into and out of structures. Frequently, they must analyze building plans and install pipes in predetermined locations.
Additionally, plumbers install sinks, water heaters, dishwashers, and commodes. In addition, they are responsible for septic systems, which collect waste from properties without sewer connections.
What is a plumber's role?
In both commercial and residential structures, plumbers install, repair, and maintain plumbing, sanitization systems, and associated equipment. They routinely evaluate plumbing systems, identify problems, and implement viable fixes.
Plumbers install water treatment and distribution systems. They install residential and commercial spas, hot tubs, and pool plumbing systems. The plumber works with sewage systems and sewage of various forms. Additionally, plumbers install and repair residential plumbing systems.
They clear away garbage and replace broken pipes. Socially conscientious consumers and customers can search for ecologically responsible plumbing, installation, and new building options.
Plumbing is the art of performing these tasks, and the person who performs them is known as a plumber.
How Much Do Best Trade Schools for Plumbing Cost?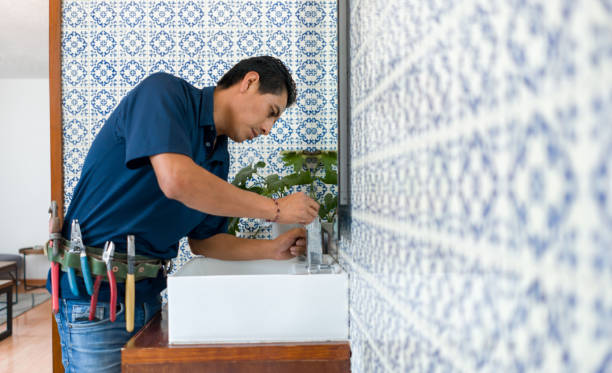 Program and Ashworth College both offer comparable classes for $800.
The cost of plumbing school ranges from $1,250 to $3,000. AC / C Tech in Indianapolis, for instance, offers a plumbing technology curriculum consisting of five courses for $1,250.
What skills are required for plumbing?
Among the practical skills required by plumbers are:
Excellent communication abilities
As part of a single project, plumbers may occasionally engage with a variety of individuals, including assistants, executives, business owners, material suppliers, and homeowners, with whom they may need to communicate effectively.
They have the confidence to articulate their ideas clearly when expressing professional messages. In addition, they must convey difficult ideas and procedures to non-specialists.
Technical know-how
Plumbers must be proficient with a variety of tools and have a thorough understanding of machines. They frequently utilize wrenches, bending tools, pipe cutters, grips, seals, tapes, and tapes.
Typically, they must develop precise measurements, computations, and specifications to ensure that projects are performed effectively, securely, and on schedule.
Ability to analyze
Although a degree in physics, mathematics, or technology is not required to operate in the plumbing industry, plumbers must be familiar with some applications of these areas that are specific to their job.
Plumbers must evaluate the functionality of systems such as sewage treatment and water distribution. They must identify how changes to factors and conditions affect results.
In addition, they must conduct tests and inspections to identify the source of problems and devise elaborate solutions.
Problem-solving skills
Plumbers must be able to identify the root of a problem and provide viable solutions. While projects are still under construction, plumbers are usually required to rapidly address difficult challenges. To accomplish this, they must employ both logical and creative thought.
Administrative skills
It may be necessary for plumbers to keep track of costs, create inventories, place supply orders, and plan project schedules. On occasion, a plumber may be required to create reports, submit them, and defend them to clients or superiors.
Physical capabilities
Plumbing is a physically demanding profession that requires physical endurance, flexibility, strength, strong motor skills, and clear vision. In dimly illuminated conditions, plumbers must routinely use small tools and equipment, such as gauges.
List of the Best Trade Schools for Plumbing
The following is a list of the Best Trade Schools for Plumbing:
1. Technical College of Atlanta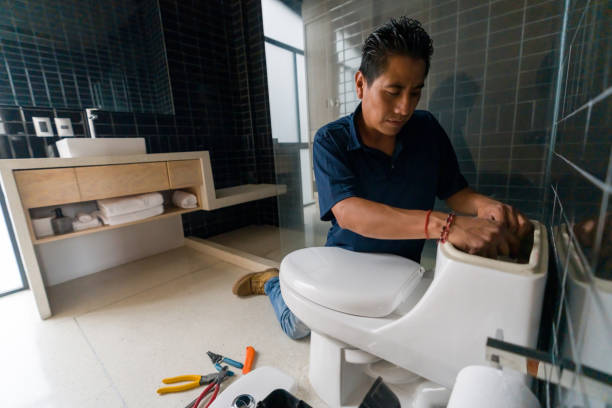 In Atlanta, Georgia, Atlanta Technical College (ATC) provides certification and diploma programs in plumbing.
This Best Trade Schools for Plumbing provides diplomas in plumbing and maintenance, plumbing services and systems, and residential/commercial plumbing.
In addition to general plumbing instruction, programs also teach arithmetic, English, and interpersonal skills.
2. Cleveland Community College
In Shelby, North Carolina, Cleveland Community College provides a degree and a certificate in plumbing.
Students have the option to pursue a certificate in plumbing; this is regarded to be the quickest approach to obtain the knowledge required to comprehend home water supply, sewage, and ventilation systems.
The diploma is somewhat more intensive and covers a broad range of issues, such as water supply, waste disposal, pipe and pump installation, and codes and standards.However, it is also among the Best Trade Schools for Plumbing.
3. St. Paul's College, Minnesota
The plumbing laboratory at St. Paul's College provides practical training in a safe, supervised environment.
This Best Trade Schools for Plumbing curriculum at the school focuses on teaching plumbing technologies applicable to industrial, commercial, and residential buildings, equipping students for a variety of options in the field.
Students will also learn how to use tools appropriately, understand blueprints, and adhere to state hygienic regulations at all times. In approximately two years, you will get a degree in plumbing and be prepared for the five-year internship required to sit for the Minnesota exam
4. Salt Lake Community College, Utah
Students participating in the program at Salt Lake Community College are eligible for a 50% tuition discount. However, studying students should not anticipate a reduction in the rigor of their homework!
In reality, this Best Trade Schools for Plumbing requires students to already be employed in plumbing or to acquire employment within the first year of study.
Managing work and school can be difficult, but those who are able to do so will find it beneficial to create such essential training for the plumbing profession as a whole.
5 Macomb Community College, Michigan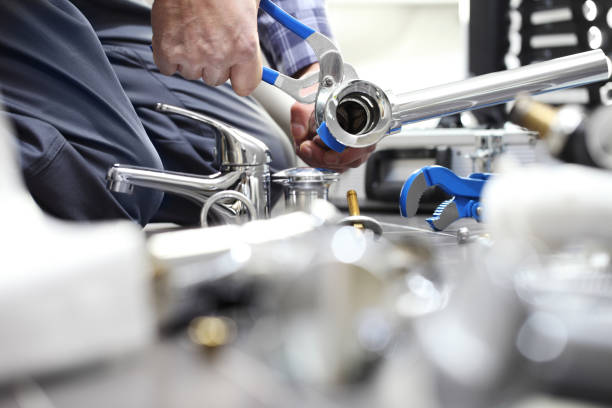 The South Campus of Macomb Community College offers a program that teaches the technical parts of the plumbing industry, including pressure management, template assembly, and pipe selection.
This Best Trade Schools for Plumbing encourages you to participate in staff-supported training upon completion of your official courses, but you can utilize their career services at any time to assist with your job hunt.
6.  Northern Maine University (ME)
At North Maine Public College, where the student-faculty ratio is 12:1, you are assured of receiving a great deal of guidance and assistance from your instructors.
It is a solid option for prospective students because to its small class sizes, low tuition, and diverse curriculum that teaches not only plumbing but also heating and cooling.
As a student in this Best Trade Schools for Plumbing, you will be licensed to work for the State of Maine, and comprehending the Maine Sanitary Code remains a focus.
7 Western Arizona College (Arizona)
Western Arizona College has a larger student body than the majority of other institutions. Despite the construction and technology program's extensive educational prospects, tuition remains inexpensive.
Cross-learning opportunities are available to students in the plumbing course, including HVAC, electricity, drawing, and welding. A specialist in applied sciences can provide students with professional credentials or diplomas.
8 Elizabethtown Community and Technical College (Kentucky)
The student program at Elizabethtown Community and Technical College allows you to build an individualized learning and education experience. There are a variety of occupations accessible, including plumbing, and more than twenty online introductory education courses are required.
This Best Trade Schools for Plumbing also offers refresher courses for plumbers and plumbers in the area, making it a handy resource once you have obtained your apprentice license.
9.  State Technical College of Texas
Consider the plumbing and water supply programs offered by Texas State Technical College if you wish to pursue studies in these areas. Start with the following vital information.
Each year, around 10,654 students attend TSTC in Waco, Texas.
Available TSTC Plumbing and Water Supply Degrees:
Certificate for basic plumbing (Less Than 1 Year)
Bachelor's Degree in Plumbing (1 – 4 Years)
10.  Ivy Technical School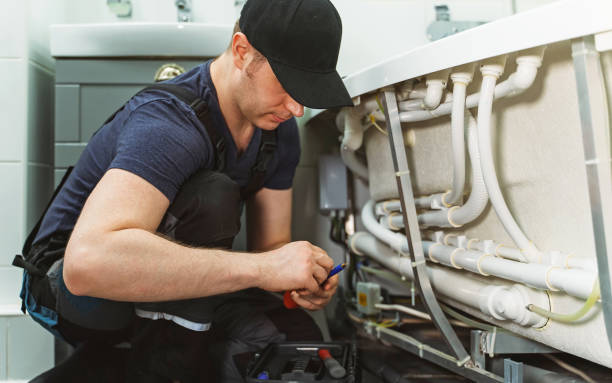 Ivy Tech Community College is an excellent alternative for plumbing and water supply degree seekers. Ivy Tech Community College is a public college with a significant student body that is located in Indianapolis. The Best Colleges ranking of #340 out of 2,241 institutions in the nation indicates that Ivy Tech Community College is an excellent institution in general.
In the most recent year for which we have data, there were around 301 plumbing and water supply graduates from Ivy Tech Community College. Ivy Tech Community College plumbing and water supply graduates earn around $43,492 more than the national average for plumbing and water supply majors.
FAQs On Best Trade Schools for Plumbing
What is the highest qualification in plumbing?
The master plumber role is the highest level you can achieve in a plumbing career. At this level, you can operate your own plumbing business in most states, pull permits to complete projects and hire junior plumbers to support your work.
How long does it take to become a plumber in the US?
Most plumbers, pipefitters, and steamfitters learn their trade through a 4- or 5-year apprenticeship. Apprentices typically receive 2,000 hours of paid on-the-job training, as well as some technical instruction, each year.
How many levels are there in plumbing?
There are 3 different levels of plumbing, but you'll at least need to be a Journeyman to start your own plumbing business | InvoiceBerry Blog.
Is plumbing a hard course?
Becoming a plumber isn't as difficult as you think! There are numerous pathways and options for study; however, the best way to start your career as a qualified plumber is to complete your plumbing apprenticeship often offered by trade schools. You can also undertake a carpentry apprenticeship at trade school too.
How much do plumbers make an hour?
In the United States, the average wage for a plumber is $28.79 per hour, according to the Bureau of Labor Statistics, which comes out to around $59,880 per year.
See also