Top High Schools in Canada for International Students!
Below is a comprehensive list of the Top High Schools in Canada for international students that take applications from foreign students wishing to pursue high school in Canada.
Perhaps you are unaware, but it is simpler to move to Canada for elementary or secondary school studies than for university studies. One reason for this is that all elementary and secondary schools in Canada are Designated Learning Institutes, whereas not all universities are, and to obtain a student visa to transfer to Canada, you must have been admitted to a designated institute in Canada.
These Top High Schools in Canada are gaining popularity among international students, as an increasing number of students from around the globe are interested in moving to Canada for academic reasons, as Canada is one of the most welcoming countries for international students.
The instructional staff is motivated to coordinate educational activity and engaging leisure so that students feel good and are communicatively available.
Parents and guardians have the option of enrolling their children in schools with distinct facilities for boys and girls. This practice permits the use of specific educational and out-of-school programs designed to accelerate the growth of academic, creative, and communicative skills.
List of the Top High Schools in Canada for International Students
The following is a list of the Top High Schools in Canada for International Students:
Andrew's College (SAC)
Rosseau Lake College
Albert College
Columbia International College
Fulford Academy
Royal Crown Academic School
Bronte College
Keystone International Schools
Blyth Academy
Upper Canada College
1. (SAC) St. Andrew's College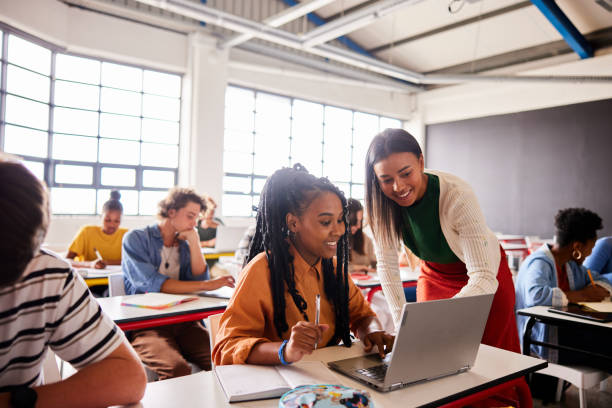 St. Andrew's College, also known as SC, is a prestigious private school for males between the ages of 10 and 18 and one of the Top High Schools in Canada for international students.
The students have the option of commuting daily from their homes or living in the school's boarding house for an additional charge.
Middle School (grades 5-8) and Upper School (grades 9-12) are the two educational divisions of the institution. Both departments accept international and domestic students.
The college was founded in Ontario in 1899 and is currently the largest and one of the most prestigious schools for males in Canada.
This educational institution attracts a large number of international students, as evidenced by the fact that representatives from 34 countries of the globe are currently enrolled at the college and applaud the institution's proposal for the highest level of academic training.
In 2014, one hundred percent of the school's graduates were successfully enrolled in universities.
Even though young males receive a separate type of education, they frequently engage in leisure activities such as sports, intellectual competitions, performances, and buffets with the nearest women's schools.
2. Rosseau Lake University
Rosseau Lake College is prominent compared to other Canadian high schools among international students. Although the school is small, it is well-known and one of the most prestigious boarding institutions in Canada.
It is situated on the borders of Lake Rosso in Ontario, the largest province in Canada. Students will be able to study comfortably year-round due to the tranquility, security, and beauty of the school's surrounding landscapes.
Thanks to the advantageous location of the college's campus, students have numerous opportunities for walking, athletics, and other outdoor activities.
The academic curriculum at Rosseau Lake College meets the stringent requirements of the Canadian Ministry of Education and the Ontario Ministry of Education, which are founded on proven British programs.
The school has a balanced curriculum, qualified teachers, and a variety of academic programs, as well as an average class size of no more than 12 students and a teacher-to-student ratio of 1:8.
In Ontario, where this high school is located, the Canadian government has designated a number of universities for international students as designated learning institutions. It is one of the Top High Schools in Canada.
3. Albert University
Albert College is one of the most prestigious Top High Schools in Canada for international students and a renowned boarding school for both boys and girls.
It was established in the 19th century, in 1857, and is currently one of the most prestigious secondary schools in Canada.
The mission of the school is to provide pupils with a foundational education and opportunities for creative and physical growth.
The school administration adopted a strategy to equip pupils through the curriculum, and this strategy has been successfully implemented.
The positive attitude of the students towards learning is one method to demonstrate the effectiveness of the aforementioned strategy.
Annually, 99.9% of its students obtain admission to universities, colleges in Canada, the United States, and many others, and over 80% of its children continue their education at priority educational institutions.
International students from 20 countries of the world are studying in this college and the school is open to admits more international students yearly.
4. The Columbia International University
Columbia International College, located in Hamilton, Ontario, is one of the Top High Schools in Canada for international students, admitting students between the ages of 13 and 19.
This high school's curriculum not only prepares students to enter the university of their choice, but also deepens their academic and linguistic knowledge and teaches them to be global citizens, allowing them to acclimate to the conditions of studying abroad.
As a very popular high school in Canada, the institution welcomes international students from 66 different countries each year.
Every year, 100% of the school's graduates enroll in prestigious universities around the world, and 70% of the graduate population is accepted by Canada's top institutions, including the University of Toronto, Western Ontario, UBC, Waterloo, Alberta, McMaster, and McGill.
5. Fulford College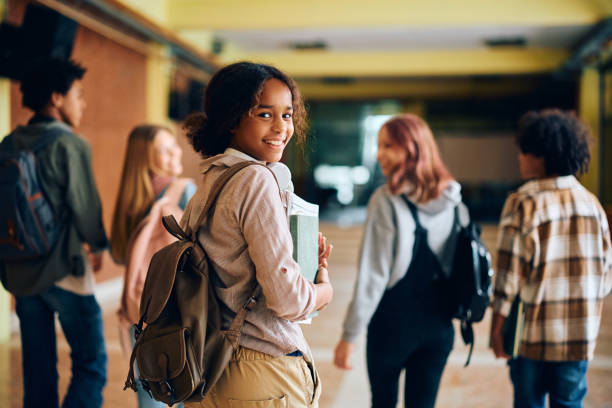 Fulford Academy, a small private boarding school in Brockville, is among the Top High Schools in Canada that accept international pupils. The high school is genuinely international, as the vast majority of boarding school students are of foreign origin.
Fulford Academy is distinguished from other high schools in Canada for international pupils by its complexity and family-like environment.
This educational institution is proud of the high academic achievement of its students, as well as the fact that its graduates are accepted into the nation's and the world's most prestigious universities and colleges.
The school's emphasis on language preparation is one of its primary characteristics. English is a foreign language studied at Fulford Academy.
Few kilometers from the border with the United States of America, Fulford attracts international pupils with its high-quality courses and convenient location.
6. Royal Crown Academic School
Royal Crown Academic School is a top-ranked high school in Canada for international students that is dedicated to assisting students excel and realize their aspirations. It is a private secondary school located in Toronto's downtown core.
Royal Crown Academic School is part of the Royal Group of Schools, which incorporates an international career college.
At Royal Crown, students are attended to individually to ensure their individual requirements are met, and it is through this process that the school is able to assist international students in settling in, feeling at home, and becoming familiar with the environment, people, and culture. It is regarded as one of the Top High Schools in Canada.
The school's curriculum is rigorous, and this encourages students to strive for success.
7. Bront Faculty
Located in Mississauga (in the Greater Toronto Area), Bronte College is a co-educational, private Day and Boarding high school in Canada for international and domestic students offering education to students between the age range of grade 9 to 12,
Bronte College was established in 1991, has provided international students with a quality education and a positive residential school experience for thirty years, and has 400 international students from thirty different countries.
Graduates of this high school receive the internationally recognized Ontario Secondary School Diploma.
8. International Keystone Schools
As one of the Top High Schools in Canada, Keystone International Schools, founded in 2012, services both local and international high school students aged 9 to 12 years.
In accordance with the Ontario curriculum, Keystone utilizes a project-based, experiential approach to teach essential self-management skills, among many others. It is located in downtown Toronto and prepares students for success in postsecondary education.
In addition to the school's general core subjects, students choose their electives based on their interests and prospective career goals. Students, parents, instructors, and guidance counselors are all involved in this selection procedure.
9. Blyth School
Blyth Academy is regarded as one of the Top High Schools in Canada for international students due to its tiny class sizes, which allow for effective teaching, learning, and monitoring of each student's performance.
The school environment is conducive to student enthusiasm and makes the learning process simple, enjoyable, and engaging.
Blyth Academy is one of the high schools in Canada that all international students desire to attend in order to complete their secondary education.
10. Upper Canada University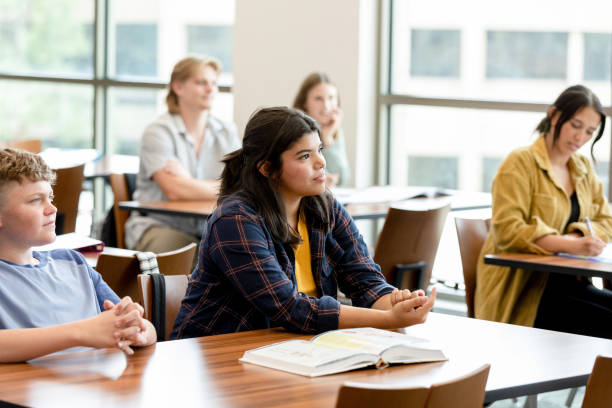 Upper Canada College (UCC) is a secondary institution specializing in the education of boys. It is one of the Top High Schools in Canada that focuses on teaching males unique ways to learn and develop.
Top universities and postsecondary institutions in Canada and around the world hold graduates of this institution in high regard.
Being a reputable secondary school, its global network of alumni includes leaders and innovators in finance, arts, politics, athletics, media and many more.
The school's financial assistance programs are exceptional among independent institutions in Canada, resulting in an annual expenditure of $5 million.
The institution offers numerous programs that appeal to international students.
FAQs On Top High Schools in Canada
What is high school called in Canada?
Also known as secondary school, high school begins in grades 8, 9 or 10 through to grade 12 in most Canadian provinces and territories, except Quebec, which starts in grade 7 and ends in grade 11. After successfully completing high school at age 17 or 18, students can go on to college or university.
Can a foreign child go to public school in Canada?
All primary and secondary schools in Canada can enrol international students. Learn what minor children need to study in Canada.
Is school in Canada cheaper than the US?
The cost of higher education in the United States and Canada varies depending on the institution, program, and location. In general, tuition fees in the United States tend to be higher than in Canada, with private universities and out-of-state public universities being the most expensive.
Which school is free in Canada?
Public elementary or primary school is free for Canadian citizens and permanent residents of Canada. If you're sending your child to Canada to study, please check with the school to determine the fees for an international student.
Also read