Art and Craft Courses for Adults and Students: If you are interested in art and craft, you can check out the 22 Art and Craft Courses for Adults and Students listed in this blog post to learn new techniques and hone your abilities.
Art can take many different forms, including painting, sculpture, drawings, writing, photography, film, and performance.
A craft is any activity, such as weaving, carving, or pottery, that involves making objects with one's hands with skill.
Art and craft is an extremely creative and fascinating skill to acquire. To become a professional in this discipline, you must gain practical knowledge through consistent study.
An interest in art and craft accelerates the learning process. When you are well-educated, you can pursue any art career that pays well and generate a substantial income.
If you have children who are interested in art and painting, you can enroll them in free online art classes for beginners that allow them to study at their own rate, as well as painting and drawing courses. Beginners can study any form of art online, including painting and drawing.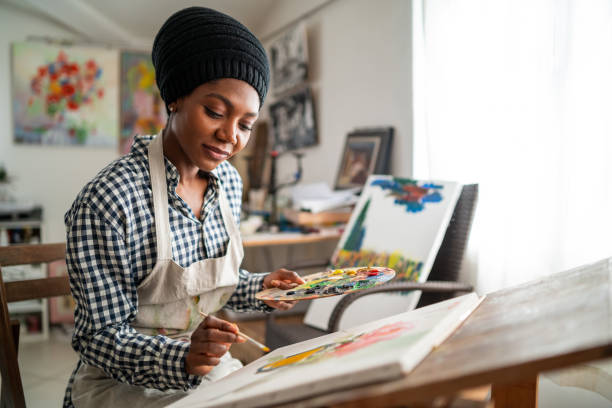 There are performing arts high schools for students as well as online art courses for adults, which will be discussed in this article. Let's dive into the art and craft classes without squandering much time.
List of the Art and Craft Courses for Adults and Students
The following is a list of the Art and Craft Courses for Adults and Students:
Painting and Drawing: An Introduction
Calligraphy Workshop
Introduction to Mehndi: Henna Tattoos
Knitting for Beginners
Kitchen Herbs Embroidery Workshop
Crochet for Beginners
Knitted Socks Workshop
Still Life Drawing Workshop
Floristry – Introduction
Confident Brushstrokes and Expressive Lines
Pearl and Bead Threading and Restringing
Upcycling – Textile Collage
Tribal Women Sculpture
Chainmail Jewellery for Beginners
Chainmail Jewellery for Continuing Students
Kumihimo for Beginners
Kumihimo for Continuing Students
Cyanotype Dying Workshop
Freeform PMC Silver Workshop
Polymer Clay Workshop – Beads or Vessel
Polymer Clay Fish Wall Hanging
Woodland Weaves
1. Painting and Drawing: An Introductory Text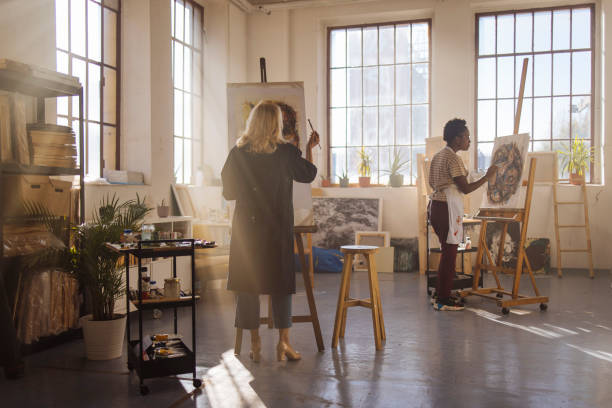 This is the first of our art and craft courses; it will guide you through exercises investigating the fundamentals of painting and drawing, including Line – Shape – Tone – Color – Design. Tonal painting (black, white, and grey), color mixing (paint), color painting, tonal drawing (charcoal), line drawing (pencil), perspective (line, pencil), and oil painting (paint supplied – tone, color, shape) are among the practices. It is one of the top Art and Craft Courses for Adults and Students.
2. Two-Day Workshop in Calligraphy
Through this calligraphy workshop, you will learn fundamental calligraphy strokes for upper and lower case lettering, together with some ornamental flourishes. You should be able to use your newly acquired skills to create stunning hand-lettered cards and artwork by the end of the course. It is also one of the top Art and Craft Courses for Adults and Students.
3. Henna Tattoos as an Introduction to Mehndi
As one of the Art and Craft Courses for Adults and Students, This course will explore the history of Mehndi, which is part of the cultural heritage of your instructor. The course covers every detail for a beginner, including the history and cultural significance of henna, how to create your own henna cones, the shapes and patterns used, followed by practice on laminated sheets and application to the skin.
4. Knitting Instructions for Novices
Learning to knit is fashionable, enjoyable, and relaxing. The course will teach you fundamental knitting techniques through a series of enjoyable exercises, empowering you to tackle your own wool, cotton, or linen projects.
5. Workshop on Kitchen Herbs Embroidery
This is an excellent course to take if you want to learn how to embroider kitchen towels and other culinary-related items. You will learn how to transform a simple botanical sketch of your beloved herbs into a beautiful hand-stitched design using a variety of stitches to create textural effects. It is also on our list of Art and Craft Courses for Adults and Students.
6. The Basics of Crochet for Beginners
Numerous items, including shoes, handbags, and clothing, are created with crochet today, and the finished products are very attractive and aesthetically appealing. Through this course, you will learn how to complete a chain; double crochet; treble crochet, and how to conquer basic shaping through a number of simple projects
7. Workshop on Knitted Socks
The majority of the socks we wear are hand-knitted to keep us warm and cozy during chilly seasons. Therefore, this skill will be useful if learned and utilized. This workshop will teach you the fundamentals of two-up sock knitting, including seamless toes, short-row heels, and knitting two pairs on one circular needle. This course requires you to have rudimentary knitting skills.
8. Workshop for Drawing Still Life
This one-day workshop examines the fundamentals of drawing through an examination of the genre of still life. Using a variety of art materials and techniques, you will learn about composition, proportion, color, and visual effects. It is regarded as one of the top Art and Craft Courses for Adults and Students.
9. Floriculture – Introduction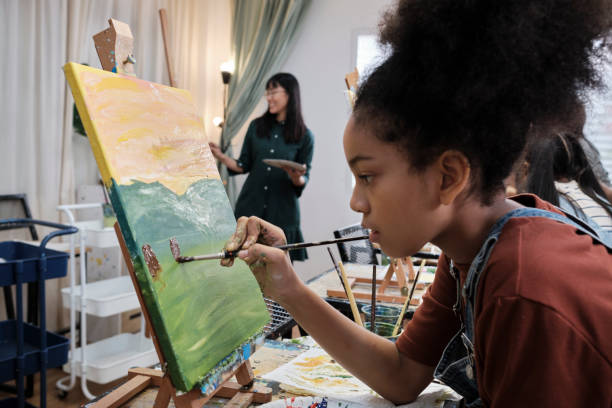 If your interest in floristry is growing, you should consider enrolling in this course. This comprehensive six-week course focuses on design and sustainability and covers a wide range of fundamental floristry techniques, including hand-tying and wiring for special occasions.
This is an ideal introduction for those contemplating formal studies in commercial floristry or those who wish to acquire valuable creative skills in floral design.
10. Brushstrokes and Lines with Confidence
As one of the top Art and Craft Courses for Adults and Students, This course will teach you how to depict an object with a few confident brushstrokes or evocative pencil lines. In this course, rather than concentrating for an extended period of time on a single work, you will exercise your observation and expression skills through a series of small paintings and drawings. Moving on to the next painting in each lesson will train you to analyze and comprehend the shapes in front of you and to represent them without becoming mired in minutiae.
11. Pearl and Bead Restringing and Threading
Similarly to how pearls and beads are uncommon and valuable, they can be used to create beautiful accessories. This course will teach you how to restring your valuable pearls and beads and give them a second chance at life. You will learn how to rethread and plait pearls and beads using new clasps and silk threading material available in class, as well as take home tips and techniques for future projects.
12. Recycled Textiles – Collage
Enrolling in this course will enable you to repurpose and beautify any old clothing you may have lying around. This course will teach you how to reuse your old clothing, linens, and favored fabrics. Collage is the process of intuitively and deliberately creating artwork. Textile collage is an excellent method for repurposing these fabric remnants into something unique. You can be extremely creative without adhering to the norms. It is one of the top Art and Craft Courses for Adults and Students.
13. Sculpture of Indigenous Women
Sculpture enthusiasts can learn how to create sculptures through this course. Using 2-part Air dry Clay, Paverpol hardened fabrics, and Paverpol Art Stone, over a polystyrene, wire, and foil armature, you can create a magnificent sculpture.
14. Beginners' Guide to Making Chainmail Jewelry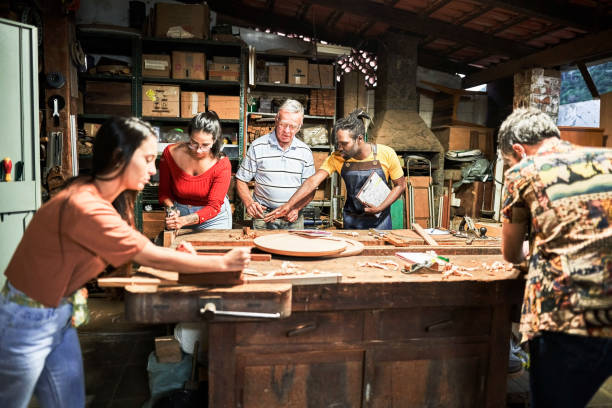 Chainmail is an ancient art form, but by enrolling in this course, you can bring it back to life. Since the days of knights and medieval armor, chainmail has advanced greatly. In this one-day workshop, you will create a beautiful beaded chainmail bracelet with earrings or pendants to coordinate. You will learn how to open, close, and weave jump rings, as well as how to add beads, to create striking modern jewelry using this ancient technique. It is one of the top Art and Craft Courses for Adults and Students.
15. Chainmail Jewelry for Persevering Students
In this one-day workshop, you can develop your existing chainmail skills and create your own stunning jewelry using this ancient technique. You must have prior experience with jump ring weaving, as you will be learning novel weaves that build on the Beginners course.
16. Beginning Kumihimo Techniques
"gathered threads" is a loose translation of kumihimo in Japanese. Samurai laced their armor with kumihimo cords, and the traditional waist of the kimono, the obi, was once adorned with a kumihimo cord known as an obijime. In this one-day workshop, you will investigate this ancient method of braiding cords and learn how to incorporate jewels into the process to create a stunning bracelet or necklace.
17. Kumihimo for Returningbter Students
This one-day workshop continues to explore the ancient technique of braiding cords in order to create a magnificent bracelet or necklace with a modern aesthetic.
18. Workshop on Cyanotype Dying
Engineers, architects, and draftsmen utilized a photographic printing technique that produced cyan-blue duplicates of drawings and plans on blueprints in antiquity. The use of cyanotype in printmaking gives the concept of schematics a creative twist. During the two-day workshop, you will use light-sensitive solutions, natural materials, and objects to solar-dye fabrics. It is among the list of our Art and Craft Courses for Adults and Students.
19. Freeform Silver Workshop of the PMC
This course will teach you how to shape, dry, and burnish silver clay in order to create a pendant or earring of your own design.
20. Polymer Clay Beads or Vessel Workshop
This course will teach you how to use vibrant and versatile polymer clay to create colorful ornaments or a one-of-a-kind vessel.
21. Polymer Clay Fish Wall Decoration
This course will teach you how to create a colorful fish wall hanging using a foil armature and patterned mixtures and logs of polymer clay to design and sculpt the final piece.
22. Woodland Weaves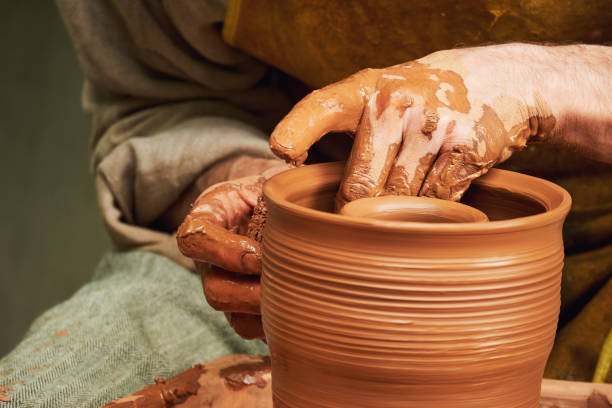 This course will teach you how to construct your own loom using a canvas frame and fasteners, as well as how to set up the warp threads. Using any yarn of your choosing, you will learn the fundamental over-under motion of traditional weaving, as well as how to create segments and shapes that are enhanced by incorporating objects from your environment.
FAQs On Art and Craft Courses for Adults and Students
Which course is best for art and craft?
The top specializations in Arts and Craft Courses are Graphic Design, Fine Arts, Design and Visual Communication and Communication. Students can work as School Crafts Teachers, Art Therapists, Exposition Decoration Running Hobby Centres, Handicrafts Industry Interior Decoration, and Conduct Craft Workshop.
What is the study of Arts and crafts?
An Arts and Crafts degree is a programme that hones your practical skills and also provides the theoretical knowledge to manually create beautiful and useful objects. The degree has a broad approach, allowing you to experiment in areas such as drawing, painting, sculpture, ceramics, textiles, woodcraft, and more.
Can I learn art at 40?
Any person can learn to draw in their 40s. Learning to draw well requires time, but not as much as many people think it takes. If any person in their 40s draws for 2 to 3 years, they will learn most of the basics required for drawing and get to a remarkable drawing level.
Can I learn art if I have no talent?
Even people who are not naturally gifted at drawing can learn to create beautiful works of art if willing to put in the time and effort. So, while talent may give some people a head start, hard work, and determination ultimately determine whether someone becomes a skilled artist.
Also read