15 Best Welding Schools in Illinois. Illinois welding schools provide a variety of certificates, diplomas, degrees, and associate degree programs. In Illinois, there are many welding schools, colleges, universities, career centers, and tech hubs.
Every day, thousands of students and internet users conduct searches for Best Welding Schools in Illinois. While some browse for personal reasons, others do so for professional purposes. Knowing about welding schools is advantageous in numerous ways.
Residents of Illinois who appreciate outside manual labor may wish to try becoming a welder.
What Does a Welder Do?
Welders are metalworkers. By cutting and connecting metal sheets of varying sizes and weights, they create machinery for a range of industries.
The two industries in Illinois that employ the most welders are manufacturing and construction. You could work at a factory that manufactures pipes and heavy gear.
A car company also provides opportunities for structural welders who construct vehicle frames. In Illinois, welders also have the opportunity to work as engineers for aerospace companies or in oil refineries.
List of the Best Welding Schools In Illinois
The following is a list of the Best Welding Schools In Illinois:
1 Rock Valley College Welding Program
2 Environmental Technical Institute Welder Program
3 The Illinois Welding School
4 College of DuPage Welding Program
5 Danville Area Community College
6 Carl Sandburg College
7 A Safe Haven
8 Jane Addams Resources Corporation (JARC)
9 Midwestern Technical Institute (M.T.I.)
10 Southwestern Illinois College
11 Southeastern Illinois College
12 Kennedy-King College
13 Richard J. Daley College
14 Triton College
15 Moraine Valley Community College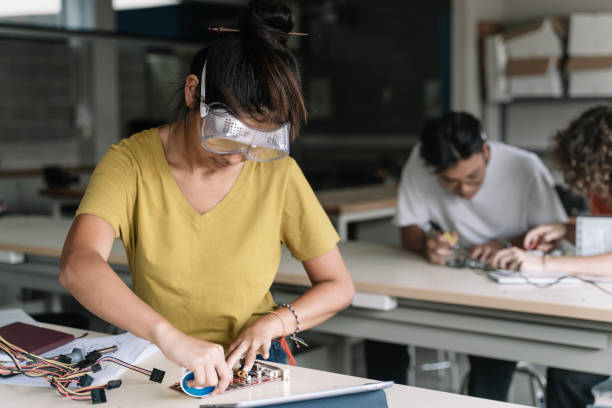 Address: 3301 North Mulford Road, Rockford, IL 61114
The number to dial is (815) 921-7821.
This is one of the Best Welding Schools in Illinois.
Graduates have the ability to perform flux core, tungsten inert gas (TIG), metal inert gas (MIG), shielded metal arc (STICK), and gas welding. You can receive training in multiple welding procedures.
ETI as one of the Best Welding Schools in Illinois will help you acquire your welding certification.
Enroll in the hands-on Advanced Welding Technology certificate program to develop the skills necessary for launching a successful new profession.
Nationally, shipyards, construction sites, and private businesses have a considerable demand for certified welders.
Telephone: (888) 572-9937
1315 Enterprise Drive, Romeoville, Illinois 60446 is the location of one of the greatest Illinois welding schools.
In our well-equipped welding facility, students at the Illinois Welding School spend more than 80% of their time working hands-on.
This Best Welding Schools in Illinois provide pupils with extensive, specialized welding instruction that will distinguish them on the competitive labor market.
Telephone: (888) 632-9353
These are the most reputable welding schools in Illinois.
The College of DuPage's welding program is designed for individuals who wish to learn or enhance their skills in various welding procedures.
The given competency-based program is beneficial for both novice and experienced students.
This Best Welding Schools in Illinois program offers a variety of skill levels in manual and semi-automatic applications for oxyacetylene, arc, MIG, TIG, and plasma welding/cutting processes. There are also blueprint reading and welding theory courses.
(630) 942-2969 is the phone number for contact.
This college offers dual enrollment and flexible class schedules to help students grow rapidly in their welding careers.
Danville is the city in question.
Please call our office at 217-443-3222.
The courses CCL in Welding and CCL in Advanced Welding are available.
The duration of the program is between one and two years.
The median annual wage is $5,399 (in-state with financial aid)
This Best Welding Schools in Illinois offers a complete welding program with flexible class schedules, small class sizes, and support with job placement upon graduation.
Galesburg is the city in question.
Phone: (309) 345-3501
Available programs include a two-year AAS in Welding Technology
annual average cost: $2,100 (in-state, in-district)
A Safe Haven Training Academy is one of the premier Illinois welding schools.
Through an introductory and welding bridge program, it enables homeless and underprivileged job seekers, including veterans and ex-offenders, in training for productive employment.
A certificate from the American Welding Society is granted upon completion of an introductory welding program that teaches fundamental welding skills.
The Best Welding Schools in Illinois will cover fundamental welding methods, mathematics, layout and fabrication, interpreting blueprints, job safety, and ethics.
The training includes both the OSHA 10-certification exam and the 10-hour general industry safety course.
This free 14-week welding program in Chicago teaches unemployed and low-income persons the fundamentals of welding to help them prepare for a profession.
JARC's training includes Gas Metal Arc Welding (GMAW), one of the most common welding processes.
American Welding Society certifications will be awarded to JARC program graduates (A.W.S.). In addition, participants receive free tutoring and job placement services.
This Best Welding Schools in Illinois has a 30-week (or 7-month) Journeyman Welding Program that leads to a certificate.
There are daytime and evening welding classes available in Moline, Springfield, and East Peoria.
After graduation, welders receive certification in welding terminology, safety procedures, and metal properties.
The program for Journeyman Welder II requires ten weeks of practical training.
The American Welding Society has recognized the Welding Technology program at Southwestern Illinois College as one of the top welding schools in Illinois and the nation.
The welding technology program complies to Level I and Level II of the American Welding Society's National Standards.
In addition to their A.A.S. from Southwestern, the student may transfer to Ferris State University and acquire a Bachelor's degree.
New welders can receive expert education and seasoned welders can improve their skills through this program.
As part of their preparation for the labor market, students receive practical experience and gain knowledge of employer relations.
A number of skills are taught to students, including shielded metal arc welding, gas metal arc welding (including short circuits, globular, and spray transfers), flux cored and plasma arc welding, acetylene welding and cutting, gas tungsten arc welding, blueprint reading, layout fit up, and weld inspection. It is also among the Best Welding Schools in Illinois.
The Welding Industry need SIC to teach vital skills.
To begin a successful career as a welder, one must be enthusiastic about working with metals and acquire technical skills through practical training.
You will study metallurgy, oxygen/fuel welding, gas welding, arc welding, flux core welding, MIG welding, plasma cutting, pipe welding, and interpreting blueprints.
The college is named after Dr. Martin Luther King Jr. and Robert F. Kennedy, civil and human rights champions.
The Higher Learning Commission has granted accreditation to Kennedy-King College.
The Best Welding Schools in Illinois offers advanced manufacturing, business and professional services, construction technology, culinary arts and hospitality, education, and other subjects.
After obtaining your Basic Certificate and training as a Combination Welder, you can apply for entry-level positions in the business.
The Richard J. Daley College is one of the City Colleges in Chicago. It is one of the largest community college districts in the country, providing education to roughly 80 000 students per year.
Each of Chicago's seven city institutions is independently accredited. The North Central Association's Higher Learning Commission has accredited Richard J. Daley College.
The Best Welding Schools in Illinois offers online classes, adult and continuing education programs, and other courses.
In 1964, Triton College was formed. More than 10,000 students enroll in college each year.
The 110-acre campus is home to thriving arts and athletics programs, state-of-the-art facilities, and a friendly atmosphere. The distance to downtown Chicago is just 14 miles.
Among the academic departments are adult and continuing education, the arts and sciences, business and technology, health occupations, and public services.
The program for obtaining a certificate in welding can be completed in as short as two semesters. Graduates will be prepared for positions at the entry level.
It is one of the Best Welding Schools in Illinois.
In 1967, Moraine Valley Community College welcomed its first students. It consists of a 300-acre campus in Palos Hills in addition to Blue Island and Tinley Park campuses.
This Best Welding Schools in Illinois is committed to provide high-quality education at reasonable cost. The Moraine Valley Community College has been accredited by the Higher Learning Commission.
The college provides around 130 programs in numerous disciplines. Programs that emphasize welding include Welding-Advance, Welding-Combination, Individualized Welding, Multi-process Welding, Pipe Welding, and Shielded Metal Arc Welding.
How to Become an Illinois Welder
Illinois does not mandate certification for general welders, although the majority of firms require applicants to have a high school certificate or GED.
Many organizations prefer formal training through American Welding Society (AWS)-approved programs so that new welders are prepared to enter the workforce.
Each institution on the list has been approved by the SENSE Accreditation Program of the American Welding Society.
Most typical welding procedures are taught in the majority of schools.
These techniques include shielded metal arc welding, gas tungsten arc welding, and gas metal arc welding (stick).
Typically, a high school diploma or GED is required for admission to these programs.
Some schools admit students who have completed only the tenth grade.
How Much Do Welders Make in Illinois?
In Illinois, welders can anticipate earning roughly $19.13 per hour, or $39.790 per year.
Similarly, the national median yearly wage is $38,94 per hour, or $33,390 per year.
In Illinois, the top 10% of welders make an average of $58,080 per year.
The top 10% of welders in the country earn an average of $62,100 per year.
FAQs On Best Welding Schools in Illinois
How much does welding school cost in Illinois?
Illinois Welding School: The diploma-based programs will cost you $1,300 for Basic welding certification. It charges $9,035 for a structural welding specialist certificate and $11,082 for a pipe welding specialist. Knight School of Welding: An 8-week program will cost you approximately $3,600.
How long does it take to become a welder in Illinois?
The time takes to become a welder in Illinois varies depending on which training program you enroll in. Some courses can be completed in as little as seven months, while others take up to two years to finish.
What is the fastest to get a welder's certificate?
The Fast Track Welding Program is a rigorous 160 hour (4 week) training program with 20% instructional and 80% hands-on training in Marine Welding. Class prepares students for the American Welding Society (AWS) Certification exam (exam fee included in tuition fee).
Is a welding degree worth it?
Attending welding school won't just likely get you placed in the short stack of resumes for employers looking to fill positions, but you could also make more money once hired. The BLS reports that there's a direct correlation between education and earned income.
See also