Best Online Music Classes for Kids!
Is your child interested in music instruction? This blog post on the most cost-effective online music classes for children is a wonderful first step in that direction.
It is astounding how much education has changed since I was a child. I recall that back then, there were no computers or phones, and we did everything with paper, pencils, and biro, including our assignments.
Check out: 9 Best Online Karate Classes For Kids
Students now have access to computers and android devices as a result of a significant transformation in the education sector. Certainly, the introduction of these devices has made life much simpler.
In this digital age, education is crucial for children. Despite the fact that they may appear to be technologically inexperienced, today's children enjoy learning through technology and are quite tech-savvy. Modern technology has made it possible for individuals to attain their dreams without spending a fortune or adhering to numerous procedures.
Due to the rapid development of digital technology, online education is now the norm. No longer are we limited to traditional lessons in which you pay a monthly or weekly fee and sit face-to-face with a teacher to acquire the necessary skill.
If your child is interested in learning music or playing an instrument, online music lessons are an excellent starting point. Today, the Internet offers online music lessons in addition to a variety of other online programs.
Advantages of Best Online Music Classes for Kids
These are the advantages of online music for children:
Enhanced IQ
Language Development
Music is a joy
Music reduces anxiety and teaches children to concentrate.
It aids in children's mathematical comprehension.
It enhances social ability.
It increases confidence.
It allows children to express themselves
It aids children in becoming active consumers.
Online music instruction brings music into the home.
This enhances note comprehension.
Children learn interpersonal skills through music.
Online music lessons promote independence
Lessons recorded by Rae that can be viewed again.
You can study anywhere in the world with your preferred instructor.
Through online music lessons, you communicate with students across the globe.
It reduces costs.
Online music lessons allow kids to progress at their own tempo.
Online music courses provide a comfortable learning environment for children.
Your children are free to choose what they wish to study.
Prerequisites for Children to Take Online Music Classes
The following are prerequisites for the Best Online Music Classes for Kids:
A digital learning environment
A guardian or parent
A smartphone, tablet, or desktop/laptop computer
The tripod is optional.
Fast Internet connection
A program or application for video conferencing (Skype, Google Hangouts, Zoom, or Facetime).
Digicam or webcam
Headphones
Music stand and sheet music
Music notation application
List of the Best Online Music Classes for Kids
The following is a list of the Best Online Music Classes for Kids:
Making Music Fun
Levine Music
Drumeo
com
Music With Lindsey
Fiddlerman
The Violin Lab
Hoffman Academy
Bernadette Teaches Music
Teach Rock
Classics for kids
Kids Guitar Zone
1. Making Music Fun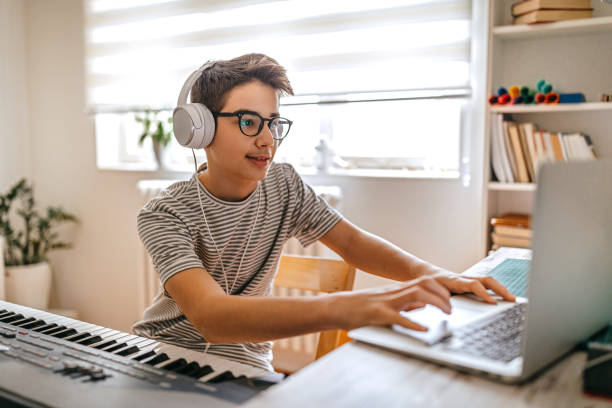 This website offers some of the finest online classes for children. Whether your child wishes to learn the piano, guitar, violin, or any other musical instrument, Making Music Fun has them all covered.
This course is open to children and novices with musical instrument experience. The courses are divided into three levels, and each child progresses through them gradually. It also includes a printable lesson document so that your children do not need to use a computer every time they wish to study.It is one of the Best Online Music Classes for Kids.
They also host an online competition to enhance participants' confidence. It is among the top online music classes for children.
2. Levine Music
This lesson is available to individuals of all ages, from infants to adults, who are interested in learning musical instruments.
As one of the Best Online Music Classes for Kids, you have complete control over the class schedule and lesson duration. Each age group has its own class, making it easier for them to integrate and learn.
Also read: 13 Best Dance Schools In The World
3. Drumeo
If your child enjoys playing percussion, this lesson is an excellent starting point. On their YouTube channel, Drumeo provides students with access to a wealth of free content.
In addition to premium access, subscribing to their channel grants you access to exclusive content. The available videos are appropriate for both beginners and children with prior drumming experience. As one of the Best Online Music Classes for Kids, it offers countless video lessons that will transform them into professionals.
4. PianoLessons4Children.com
This is a piano lesson for beginners and pupils at the elementary level. There are three categories of lessons: piano lessons, children's music, and composer lessons.
Each of the categories consists of YouTube-accessible video content. As one of the Best Online Music Classes for Kids, it includes online quizzes at the conclusion of each lesson.
Parents use this test to evaluate their children. Additionally, they provide printable lesson materials that can be downloaded and used offline.
5. The Music of Lindsey
The instructor of this online course is Miss Lindsey. She teaches small children music in the most engaging manner ever!
Her music lessons are divided into two categories: "My First Music" and "The Music Adventure." The first category includes children ages 0 to 4 who are taught fundamental kindergarten music, while the second category includes children aged 8 and older.
Her classes are among the Best Online Music Classes for Kids, and you can find them on YouTube and her website.
6. Fiddlerman
If your infant has a passion for playing the violin, fiddler man is an excellent introduction! It contains a wide variety of material for individuals of all ages, whether novices or professionals.
Lessons are available as papers that can be downloaded as PDFs for offline study. They are also available on YouTube and have a blog where students can gain additional knowledge about music.
It is among the Best Online Music Classes for Kids.
7. The Violin Laboratory
This is an online violin instruction course. This class is designed exclusively for young students to learn and perform the violin. Classes are divided into three categories: novice, intermediate, and advanced.
The lectures are available in video format, but subscriptions are not free. Basic, premium, and premium + subscription packages are offered.
As one of the Best Online Music Classes for Kids, this class offers downloadable PDF lesson sheets and handouts to eliminate the need to purchase additional books.
8. Hoffman University
This academy offers free online piano lessons to children. They employ effective instructional methods and have structured classes.
There are both free and paid online piano lessons available to them. Since this is an online course, the children will require parental assistance during the learning process. It is among the Best Online Music Classes for Kids.
9. Bernadette Teaches Music
This class focuses on Ukulele instruction. Bernadette, the music instructor, has mastered the fundamentals of performing all the individual ukulele pieces.
She also has a great teaching style, offering numerous beginner classes to learn from beginning as well as numerous tutorials on popular songs for children. It is among the Best Online Music Classes for Kids.
Check out: Best CRNA Schools with Online Programs
10. Instruct Rock
This is one of the Best Online Music Classes for Kids. It is all about the evolution of rock music.
This subject is awesome because it is endorsed by educational boards and organizations and is aligned with school standards.
11. Classics for children
Classics for Kids is the finest online music course for children with a passion for classical music.
Weekly audio lectures accompanied by a quiz and activity sheet are made available. This course is an excellent introduction to the fundamentals of classical music.
12. Kids Guitar Zone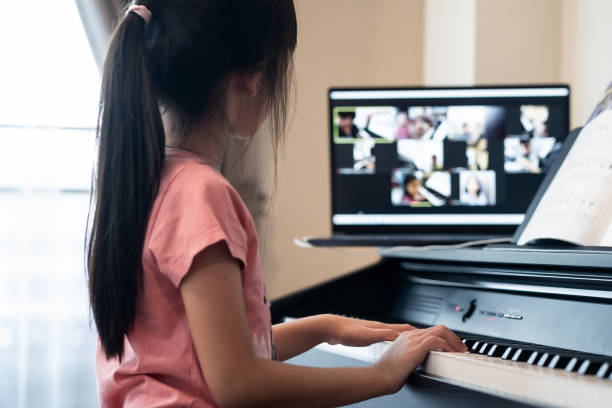 Kids Guitar Zone is an additional Best Online Music Classes for Kids that teaches the fundamentals of how to hold and adjust a guitar.
The lessons begin with the popular novice sound "Smoke on the Water" (possibly everyone's first guitar song! ), and teach you to play 'Gangnam Style' and more!
There are ten kid-friendly video lectures available on the website, each of which is covered logically and sensibly.
FAQs On Best Online Music Classes for Kids
What is the best age for a kid to start learning music?
In summary, there are three answers to the question, "What age should children begin music lessons?" Informal activities with music should start soon after birth, followed by more systematic classes around age three, and lessons with the goal of learning the instrument should start between six and nine.
Are online music lessons worth it?
Yes, online music lessons work very well. A lot of information for learning music is visual, so the internet works just as well as a book in a classroom. And since music files can be shared via the internet, the audio portion of a music lesson is available, too.
Where to start learning music?
Practice playing notes, chords, and scales on your instrument. After you've mastered the concepts of notes, chords, and scales, learning how to produce these sounds with your instrument is the first step to learning how to play music. Start by practicing notes first, then move on to scales, and finally to chords.
Can 4 year old learn piano?
4 and 5 year old's are at a great age to begin piano study, and it's an educational extra-curricular that can lead to a life of music appreciation.
Also read